Detailed Installation Instructions
You will have to Quit and restart your browser, for it to recognize Guitar Guru.
Step 1 - Download Guitar Guru
To begin installation of Guitar Guru, please click on the link below to download the Guitar Guru installer.
If your download hasn't already started,
click here to download Guitar Guru
Step 2 - Start Installer
Click the Open or Run button (unless you've previously checked the Remember choice box).
Example: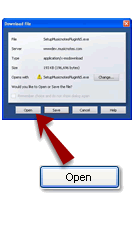 Step 3 - Install Guitar Guru Software
Click the "Next" button on the "Welcome to the Guitar Guru Setup Wizard" screen.
Example: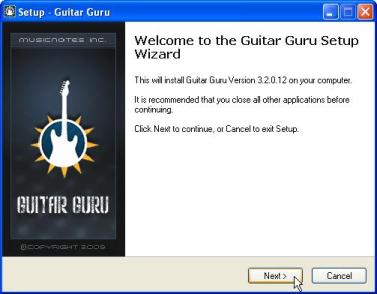 Read the License Agreement. If you agree, choose the "I accept the agreement" option and the click the "Next" button.
Example:
Select the default options on the following windows that appear during installation and press "Next" or "Install" until installation is complete.
Once you've successfully completed installation of the Guitar Guru software, it's time to start playing your music!