Bass Guitar Tab
Digital Sheet Music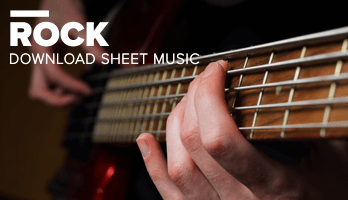 Rock Bass Guitar Tab
With over 300,000 arrangements, Musicnotes.com features the largest selection of downloadable sheet music. Shop our rock bass guitar catalogue and find favorites such as "Sweet Child o' Mine" and "Billie Jean" or new additions like "Can't Stop the Feeling!." Instantly print and play rock sheet music arranged for bass guitar tab or download our FREE iOS, Android and desktop apps, and enjoy your sheet music anywhere with in-app transposition, audio-mixing playback, markup abilities and more!
Browse Bass Guitar Tab by Popular Style:
Newest Bass Guitar Tab Sheet Music
Top Bass Guitar Tab Sheet Music
Keeping the rhythm with the deep sounds of the bass has never been easier than with the best selection of directly downloadable digital sheet music available online, right here at Musicnotes.com. Our catalog of instantly downloadable music is perfect for bassists of every skill level. Start bolstering your personal library of bass tab with the thousands of options offered from Musicnotes.com, ready to be synced and kept for viewing on our free Android, iOS, Mac and PC apps.
When you make the choice to use Musicnotes.com as your source for the best selection of digital bass sheet music, not only do you gain the option to use one of our mobile apps for Android, iPad, iPhone, or other devices, but you also have the choice to download the file to print as a hard copy as well. Digital or traditional, the best bass music available online is only a click away. For the savvy bassists, you may want to preview your tablature before you purchase to ensure you are getting the music you love at the level you are capable of playing, so we created a digital preview option for most of our sheet music.
Keep the bass line thumping with our enormous digital library of ready-to-download bass sheet music compiled for bassists of every skill level. Musicnotes.com is the best selection of online digital sheet music founded by musicians, for musicians.