Search over 300,000 sheet music arrangements available instantly to print or play in our free apps.
---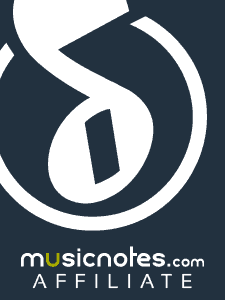 Musicnotes.com Affiliate Partner Program
Thank you for considering Musicnotes.com's Affiliate Program!
Musicnotes.com is the world leader in digital sheet music sales, with over 75% of the market share according to Compete data.
We have over 300,000 digital sheet music titles in our catalog (the largest digital sheet music catalog in the world), including many exclusive and out-of-print titles you won't find anywhere else!
In business since 1998, we continue to enhance our product line on a regular basis by expanding our catalog, and improving our product through both mobile and desktop apps.
We look forward to having you join our team.
Why Partner with Musicnotes.com?
Earn 5% commission on any order.
Access to Full Product Data Feed containing EVERY product on our site!
Extensive Product Links!

Choose from text links, banners, search boxes, and more!

Backed by a Leading Company!

We pride ourselves on giving customers a unique and satisfying experience. Our cutting-edge technology which allows users to preview and play sheet music right in their browser before they purchase is just a piece of what makes the customer experience so wonderful at Musicnotes.com.

Powered by Rakuten Affiliate Marketing

Voted #1 Affiliate Marketing Network for four years in a row, the Rakuten Affiliate Network is one of the only affiliate marketing networks to facilitate long-term, profitable partnerships between advertisers and publishers. Their network is select and global, with premium technology that makes tracking, payment and reporting effortless.
Join / Register!
Questions?
If you have any questions regarding the Musicnotes affiliate club program, please contact us via email at affiliate@musicnotes.com