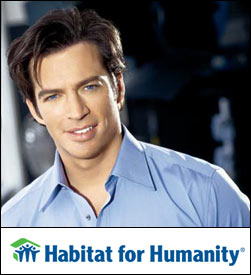 Prefer to Donate Directly?
If you'd prefer to donate to Habitat for Humanity directly, or for a larger dollar amount, you can find more information
here at their website
.
http://www.habitat-nola.org/donation/


Donate to Hurricane Relief Rebuilding with Musicnotes and Harry Connick Jr.

Musicnotes.com, together with Harry Connick Jr. encourages you to help in the rebuilding of homes for those affected by Hurricane Katrina.

To help in the rebuilding effort, Musicnotes has an exclusive sheet music arrangement of Harry Connick Jr.'s song "City Beneath the Sea" available for purchase and download.

The song, written in 1996 as a tribute to his beloved city of birth, was specifically selected to be used in this Hurricane relief effort by Harry Connick Jr.

100% of proceeds from the sale of this sheet music will go to Habitat for Humanity, New Orleans Division.

Click here to buy sheet music for Harry Connick Jr.'s "City Beneath the Sea" and help those affected by the devastation of Hurricane Katrina.

---
Lyrics to 'City Beneath the Sea':
Take me... Take me
To the city beneath the sea
The river will wrap around me
And the music will let me be
You can find me on the neutral ground
On the corner of Fleur-de-lis
Please... somebody won't you take me
To the city beneath the sea
Take me... Take me
Where the night outshines the day
You can hear the tap of soda caps
And smell the étoufeé
You can fais do do with Jacamo
Or fi na ne 'till three
Please... somebody won't you take me
To the city beneath the sea
How... How long
Can I stay away
How... How long
Can I stay away
Take me... Take me
To the Meters and the Mardi Gras
They betcha where you got your shoes
And they eat their oysters raw
Pork Chops dances all night long
But he won't dance for free
Please... somebody won't you take me
To the city beneath the sea
Lyrics © 1996 Papa's June Music