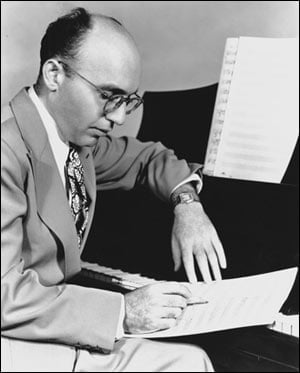 Born in Dessau, Germany in 1900, Kurt Weill's first opera, The Protagonist was performed in April of 1926. By this time he had already become an accomplished composer, but had decided to devote his future work to musical theatre. Working with like-minded contemporary, Bertolt Brecht, the two had their first veritable hit in 1927 with Mahoganny-Songspiel and the two became enormously popular throughout Europe.

With the rise of Nazi Germany in 1933 Weill fled his homeland, as Nazis burned his music and attacked his publishing house. After a brief stay in Paris, Weill eventually found himself in New York and became one of Broadway's most popular composers. But, while hit shows such as The Threepenny Opera (home to Mack the Knife) and Lady in the Dark (a collaboration with Ira Gerswhin) propelled Weill into the spotlight of songwriting, he also continued to write music intended to address the real world, including his work for Lost in the Stars, based upon Alon Paton's exploration of South African racial conflict, 'Cry the Beloved Country'.

Weill passed away from heart failure in 1950, shortly after beginning work with Maxwell Anderson on a musical adaptaion of Huckleberry Finn. The two had previously collaborated on Lost in the Stars in 1949.




Kurt Weill Sheet Music:
Click song titles below for free previews of the sheet music, or to purchase an instantly-available digital sheet music arrangement. Soon you'll see why legendary artists including Lotte Lenya, The Doors, and others have performed Kurt Weill's songs.



All At Once

Apple Jack

As Long As I Love

Ballad of the Robbers

Big Mole

A Boy Like You

The Catfish Song

Come In, Mornin'

Dance Around the Golden Calf

David's Psalm

Dirge for a Soldier

Don't Look Now

Economics

Foolish Heart

Girl of the Moment

Green-Up Time

How Can You Tell an American?

How Much I Love You

If Love Remains

I'm a Stranger Here

Is It Him Or Is It Me?

It Never Was You

The Little Gray House

Lonely House

Lost in the Stars

Love Song

Mack the Knife

March to Zion

May and January

Mile After Mile

Mon Ami, My Friend

Moon Faced, Starry Eyed

Mr. Right

My Week

Oh, Heart of Love

Oh, The Rio Grande

The One Indispensible Man

One Life to Live

One Touch of Venus

Our Ancient Liberties

Pirate Jenny

The Princess of Pure Delight

The Promise

The Right Guy for Me

River Chanty

The Saga of Jenny

The Scars

September Song

Sing Me Not a Ballad

Song of Miriam

Song of Ruth

Song of the Free

Song of the Rhineland

Speak Low

Stay Well

Susan's Dream

That's Him

There'll Be Life, Love and Laughter

There's Nowhere To Go But Up

This Is New

This Is The Life

This Time Next Year

Thousands of Miles

To Love You and To Lose You

To War!

Trouble Man

The Trouble With Women

Tschaikowsy (and Other Russians)

Two Hearts

Washington Irving's Song

We Are Cut In Twain

We'll Go Away Together

Westwind

What Good Would the Moon Be?

Will You Remember Me

Wooden Wedding

You're Far Too Near Me

Young People Think About Love


browse all Kurt Weill