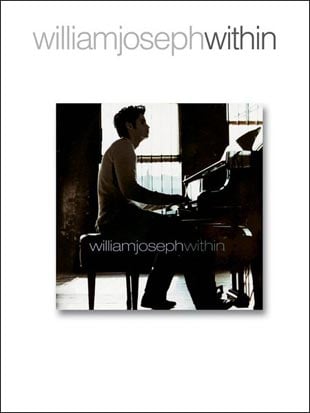 Phoenix, Arizona native William Joseph's debut album, 'Within' showcased this talented keyboardist's blend of new age and classical influences. With a mixture of covers of classic songs including Kansas's "Dust in the Wind" and Led Zeppelin's "Kashmir" to Joseph's own originals (including the hit title track), and his take on "Ave Maria," Joseph quickly garnered a strong following.

Now you can learn to play all your favorites from 'Within' with our William Joseph sheet music. Just click a song title on the right for a free preview or to order the song online. Or, if you prefer, click on the book to order the music book online to be delivered to your home via traditional delivery.

Visit William Joseph on the Web: www.william-joseph.com



Download William Joseph sheet music and print directly to your printer. Click on a song title below for a free preview, or to order the piece.

Digital Sheet Music Collections:
Download sheet music for selected favorites from William Joseph's debut album in a digital collection and save nearly 50% versus individual pricing.

William Joseph: Selected Favorites

Individual Sheet Music Downloads
Pick and choose your favorite William Joseph songs and learn to play only the songs you want.

Within
Eternal
Stella's Theme
Ave Maria
Kashmir
Homeward Bound
Piano Fantasy
Se Si Perde Un Amore
Dust in the Wind
Grace
---
William Joseph Sheet Music Books
Order the music book for William Joseph's debut albums 'Within' online and have it sent to your home via mail or UPS delivery.


browse all William Joseph sheet music