Beginner Notes
Digital Sheet Music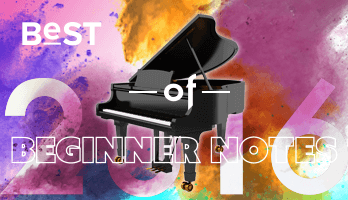 Best of Beginner Notes Sheet Music
Musicnotes features the largest online selection of instantly printable beginner piano sheet music. Shop our best-selling titles from 2016 and find something new to top your music stand for the coming year. Get the most out of your sheet music purchase, sync your new sheets to our FREE iOS, Android and desktop apps, and enjoy in-app transposition, audio-mixing playback, markup abilities and more.
Best of Beginner Notes Sheet Music 2016
What Are Beginner Notes?
Beginner Notes are sheet music arrangements for beginning musicians, featuring large notes with the letter of the note name indicated in the note head. They are designed to make it easy for anyone to learn to play a song.
New to reading music?
Follow our step-by-step intro and print off your free piano guide at the right.
Browse Beginner Notes by Popular Style:
Newest Beginner Notes Sheet Music
Top Beginner Notes Sheet Music
The early stages of a beginner pianist's foray into the world of music can be crucial. Those who are new to the piano may become unnecessarily frustrated if they are forced to learn from sheet music which was not designed for their skill level. That is why Musicnotes.com offers piano sheet music designed specifically for beginners. These arrangements feature large notes which are easy to see and follow, with each note's name written on the note head. These features make it easier for the beginner to follow both the music on the page and the instructions from the teacher with little trouble; the easier it is for a beginner to learn, the more likely that an interest in learning will push him or her to face new challenges and try new arrangements.
One of the drawbacks of most beginner piano sheet music is the lack of variety. Students hear the same classical songs, over and over, to the point at which they lose interest in actually learning to play those songs well. At Musicnotes, however, we know that variety is the spice of life. Our beginner sheet music comes in a variety of categories, including children's, classical, classic rock, pop, Broadway, and movies/TV. Whether you are looking for beginner piano sheet music for yourself or are a teacher looking for music for students, you are sure to find something that you like.
If you wish to purchase sheet music for beginning pianists but do not want to spend a fortune or amass a sheet music library you may never need, Musicnotes.com is a wonderful choice. We allow you to find the music you like in our ever-expanding library of hundreds of thousands of titles. Then you simply purchase, download, and print your music right away. Using Musicnotes.com is the simplest, most cost-effective way to acquire the music you want, making Musicnotes the perfect option for new students and their teachers.