Easy Piano
Digital Sheet Music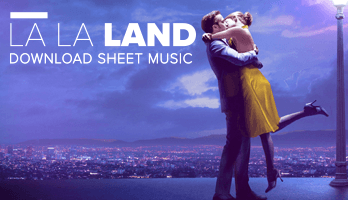 'La La Land' Sheet Music
Musicnotes.com caters to musicians of all skill levels, including those in-between the stages of beginner and intermediate. Our Easy Piano scoring allows you to practice playing both treble and bass clef without all of the extra "fluff." Instantly print and play favorites from the movie sensation 'La La Land' arranged in the Easy Piano format now.
Shop 'La La Land' Sheet Music Arranged for Easy Piano
Newest Easy Piano Sheet Music
Top Easy Piano Sheet Music
Easy piano sheet music is great for early learners who are well past the beginning stages but are still learning how to master the process of reading music. One of the best ways that you can maintain an interest in practicing at this important stage is by using a variety of music as teaching tools. Musicnotes.com carries new easy piano sheet music and updates it every week, giving you the simplest, most efficient access to new music available anywhere.
At Musicnotes, the process is simple. You select a category of music–such as beginner notes, easy piano sheet music, jazz, etc. Then you search for the song or songs you wish to purchase, using either the name of the song or the name of the artist/composer. Once you find the song you are interested in, you can preview the sheet music to ensure that you like the arrangement and the layout. Then, you make your purchase using any major credit card or PayPal. Download, then print, and you are done! You save both time and money by purchasing only the music you want and printing your sheet music on demand.
Musicnotes.com is proud to offer a library of hundreds of thousands of selections, all 100% licensed and professionally arranged, giving you the very best music product available anywhere. We carry music in every skill level and genre, including classical, contemporary, Broadway, and jazz. If you're looking for the newest easy sheet piano music available anywhere, trust Musicnotes.com.