Movie & TV Piano
Digital Sheet Music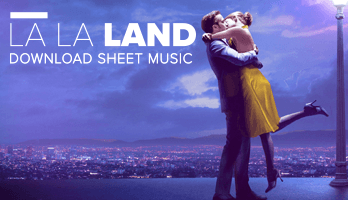 'La La Land' Sheet Music
Instantly print and play favorites from the third film in history to earn a historic 14 Oscar nominations, including two nominations for best original song. 'La La Land' features jazzy music to help portray the lives of two struggling Hollywood hopefuls filled with dreams of stardom. Download sheet music from 'La La Land' and immerse yourself in the film's passionate world today.
Shop 'La La Land' Sheet Music Arranged for Piano
Newest Movie & TV Piano Sheet Music
Top Movie & TV Piano Sheet Music
Movies and TV shows have an immense impact on the popularity and longevity of a song. At Musicnotes.com, we are constantly updating our library of piano sheet music from movies and TV shows, giving you access to the best selection of songs online. Our suite of Android, iOS, PC, and Cloud apps make each selection easy to download and view as many times as you need.
We have piano solo arrangements of instantly recognizable themes from movies and TV, and also a wide array of more obscure movie and TV piano themes you can't find anywhere else. Also, if you are looking for a popular tune that won't get out of your head from a blockbuster like Star Wars, Harry Potter or The Sound of Music, we have arrangements for varying skill levels. You can also preview the song of your choice with our audio and visual preview features right on the site—that way, you can be sure you have the selection that is right for your pianist's skill level and tastes.
Whether you are using the iPad app or choosing to print the piano sheet music of your choice, Musicnotes.com strives to make sure you have what you need when it comes to sheet music. Check back every week for new piano music from TV shows and movie—and while you wait, peruse our already extensive collection.