Here at Musicnotes.com, every year we create a list of the Top 100 songs. This list isn't like the Billboard 2008 Year in Review Charts, because it's based on sheet music. Your sheet music.
In our minds, a Top 2008 sheet music list is more important than the songs you may download to your mp3 player, because you invest so much more time in learning to play or sing a song that just listening to it. Whether you download a piece of sheet music from our site or buy it at your local store, you are making a commitment to that song because it's something you enjoy.
After reviewing your Top Songs of 2008 for Musicnotes.com, there were a few surprises. Take a look:
Top 10 Sheet Music Downloads
Top 10 Guitar Guru Sessions
This year we reached another milestone in our quest for guitarists to learn your favorite songs, we offered Guitar Guru for Mac or PC!
We'd also like to take the time to say a huge "Thank You!" to all of you who suggested a Guitar Guru Session in 2008. We're in the process of reviewing your song requests and are definitely going to keep our Gurus busy on our end. As we had mentioned recently when we explained how you can "suggest your song," we're working toward improving this service for you.
Without further delay, here are your Top 10 Guitar Guru Sessions from 2008. For more of your favorites, check out your Top 50 Guitar Guru Sessions.
Twilight Sheet Music Including Bella's Lullaby Now in Digital!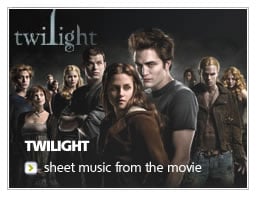 When we first posted about Sheet Music for Twilight, we had no idea how important the music for this popular movie about a vampire named Edward and the teenage girl Bella was to you. We've been overwhelmed with your song requests and comments for Twilight sheet music, and have added new songs this week that were included on the Bonus Soundtrack including sheet music for the third movement from La Traviata. This classical piece from the opera was played in the background when Bella first visited Edward's house.
We've now added the sheet music for Twilight Solos, including Bella's Lullaby.
Includes five songs from the Twilight Score soundtrack, offered at a discounted price of $12.95. These songs are only available as part of this collection, at the request of the publisher. The following songs are included: Bella's Lullaby, Who Are They?, The Lion Fell In Love With The Lamb, Stuck Here Like Mom, and Phascination Phase. For more songs related to the movie Twilight, we invite you to visit our blog post describing The Twilight Soundtrack and Sheet Music for Twilight Playlist.
It's really exciting to see on our end how much you enjoy these songs! What a great way to support your favorite film or TV show!
Vote Now for December's YouPerform Contest Winner!
There's still time to Vote for December's YouPerform Contest Winner! We appreciate your feedback on these performances and your votes. December was the last month where contestants are required to only submit the free sheet music download of the month. In January, we opened up the YouPerform contest to be any song provided it's from our list of Musicnotes Editions.
Here's one of the benefits to opening up the song selection: If you are working on perfecting your performance of Clair de Lune or Danny Boy, you can submit your contest entry at any time. If your submission comes in past that particular month's deadline (which is usually the last day of the month at midnight), we'll simply add your entry to next month's contest.
We hope you keep us in mind as you practice your instrument or vocal selections.
Well, that's all for now! We hope you enjoy your weekend and we can't wait to share with you more highlights from 2008 next week — including the number one song-of-the-year!