Spanish guitarist-composer Francisco Tarrega wrote ESTUDIO BRILLANTE in the late 19th Century. This incredibly difficult etude was based on a sonatina by French violinist-composer Jean-Delphin Alard. In addition to Tarrega's performing and teaching ability, he also arranged many pre-existing works for guitar by composers such as; Beethoven, Mendelssohn, and Chopin.
Even though he only wrote less than a hundred pieces for the guitar, the short compositions are enjoyed by many guitarists. Within the music world, many consider Tarrega to be an important founding figure for the classical guitar genre. Other works by Tarrega include how most famous work, RECUERDOS DE LA ALHAMBRA, and LAGRIMA, a popular guitar tab for beginners.
Your free download of ESTUDIO BRILLANTE includes an interactive Guitar Guru Session plus free printable guitar tab, and is available through October 31st.
Download your free guitar tab and Guitar Guru Session for ESTUDIO BRILLANT today. For more recommendations on classical pieces for guitar, we recommend browsing our selection of classical guitar tab.
Guitar Guru Headset Give-A-Way (for PC)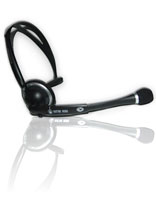 From now until the end of October, comment on this blog post for your chance to win a Guitar Guru headset. To enter, all you have to do is comment below telling us about the song that you had the most fun learning how to play.
What can you do with your Guitar Guru headset? From learning how to play songs from The Beatles Rock Band to our new features in Guitar Guru 3.0, a headset enhances your overall guitar song learning experience. Guitar Guru features voice command functionality for the PC, so using a headset allows you to keep your hands on your guitar while you're learning how to play your song. We tested a bunch of different headsets for Guitar Guru yet one stood out among all the brands we tested. This Plantronics headset offers noise-canceling, excellent sound quality, and has a retail value of $24.95.
Be sure to comment on this post for your chance to win! Contest ends midnight on October 31st. Limited to one entry per customer. One lucky winner will be contacted via email by November 2nd, 2009, so be sure to provide a valid email address in the comment field. We respect your privacy, and will not use your email address for any other purpose than this contest.