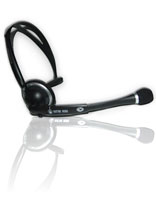 Do you have Guitar Guru installed but haven't taken advantage of Voice Command for your PC? Keep your hands on your guitar and order our official Guitar Guru headset for only $12.95!
Our Voice Command functionality allows you to interact with Guitar Guru in a unique way. Don't take our word for it! Just watch this video where our resident Guru shows you how Voice Command can help you learn your favorite songs.
Details for the Guitar Guru Headset Sale – Normally priced at $24.95, save $12.00 when you purchase a Guitar Guru headset for your PC. Shipping through the U.S.P.S. has also been reduced to $2.95 for U.S. addresses only. Offer valid only on the official Guitar Guru headset. Not valid on any other product. No minimum purchase required. Sale ends Friday, April 30th.
About Guitar Guru
Are you new to Guitar Guru but have always wanted to learn how to play guitar?
When you download Guitar Guru Sessions right to your desktop, you will be able to learn your favorite tunes through our interactive software. Here's an overview of what Guitar Guru can do for you:
Detailed, note-by-note instructions
Virtual fret board with real-time finger positions
Adjustable playback/learning tempo (up to 300%)
Voice Command
Control nearly every function of Guitar Guru using simple voice commands
MIDI or CD-Synched/MP3/WMA-synched Audio
Step-Through Playback Function
Repeat an event using the down arrow on your keyboard.
Customizable display with additional guitar skins
Learn the bass parts with Bass Guru Sessions.
Over 1,750 songs now available
Bonus printable guitar tab included with every song!
Be sure to visit our Guitar Guru Sessions page for more information or visit our free sheet music page to download a free Session to try it out.