Ah, the one-hit wonder. That time-honored cultural phenomenon of musical artists or groups breaking out with one fantastic, catchy, everyone-is-singing-along song, only to disappear faster than you can say "Macarena."
The truth is, many one-hit wonder artists are extremely talented musicians and/or song writers. And, just like the countless talents out there who haven't scored the signature hit yet, there isn't always a rhyme or reason to why only one song made it big.
We've taken a look at our best-selling sheet music one-hit wonders below, defined as signature songs by artists who didn't have another chart-topper. Just to note, we DID include songs by a-ha and Dexy's Midnight Runner, even though the bands had additional #1 singles in the UK, "The Sun Always Shines on TV" and "Geno" respectively. But we did not include soundtrack songs like 'Monty Python's' "Always Look on the Bright Side of Life" and "That Thing You Do!" from the movie of the same name that told the story of, what else, a one-hit wonder.
Check out our Top 10 One-Hit Sheet Music Wonders below, click on an image or song title to preview/hear the sheet music, and see if you remember when these songs ruled the radio!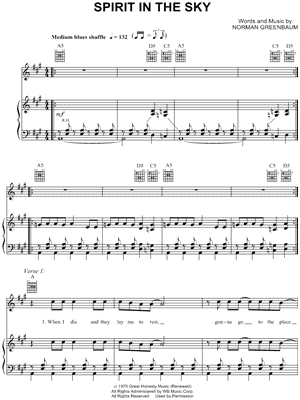 Charting for 15 weeks in 1970, Norman Greenbaum said he wrote the lyrics to "Spirit in the Sky" in just 15 minutes. The psychedelic rock-gospel hit continues to influence music lovers more than 40 years later.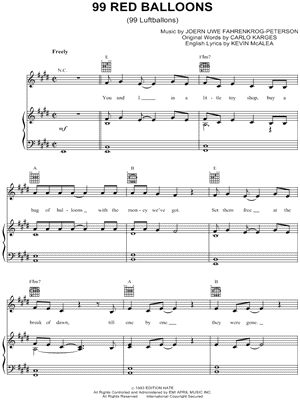 New wave group Nena released an English language version of its hit "99 Luftballons" after the German hit went international in 1983. We'd venture to say it's still one of the most fun-to-play pop songs in either language.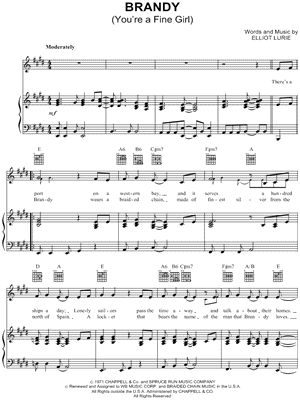 Poor Brandy was left in love with a "man who's not around," but the digital sheet music for this #1 single of 1972 endures.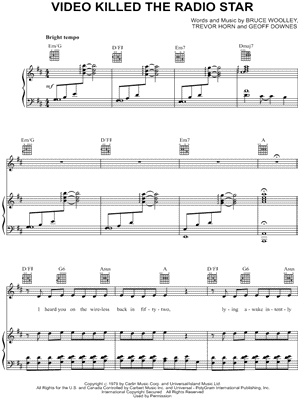 Chosen as the music video to launch  MTV  in 1981, "Video Killed the Radio Star" was The Buggles' debut single two years prior. The song continues to be a favorite of Musicnotes musicians, who are all stars as far as we're concerned.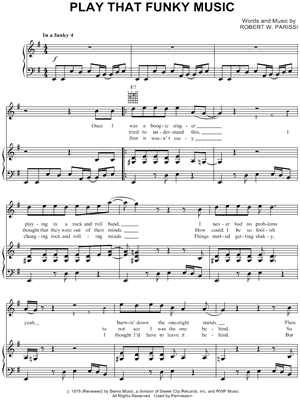 Boogie singers of 1976 got down to Wild Cherry's "Play That Funky Music," and we're still dancin' and singin' and movin' to the groovn' of its sheet music today.
5. "Come On Eileen" by Dexy's Midnight Runners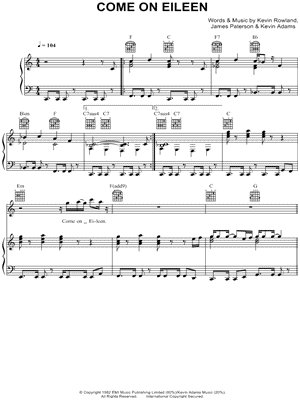 Incorporating banjo, accordion, fiddle and saxophone into one of 1983's biggest pop chart-toppers, Dexy's Midnight Runners had us all crooning too-ra-loo-ra, too-ra-loo-rye, aye… and we haven't stopped.
4. "What's Up?" by 4 Non Blondes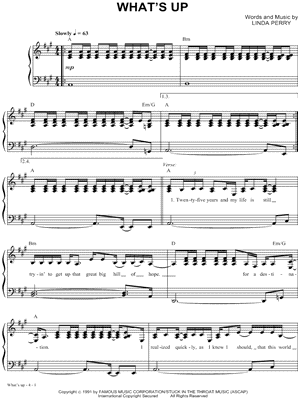 Linda Perry has written and produced a number of hits for Christina Aguilera, Pink, Alicia Keys and many more of today's most popular musicians. However, as the guitarist and vocalist of 4 Non Blondes she only achieved one big single, the rousing anthem "What's Up?," in 1993.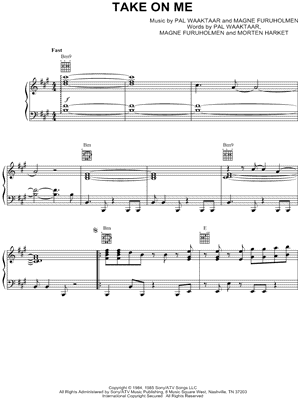 Pop music had an 'a-ha' moment… literally… when the Norwegian synthpop group's "Take on Me" spent 23 weeks on the Billboard Hot 100 in 1985. Now, hundreds of musicians take on playing the digital sheet music to this classic each year.
2. "Bad Day" by Daniel Powter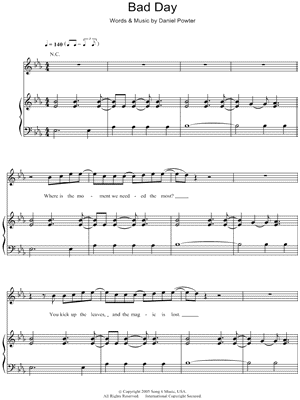 "Bad Day" by Daniel Powter was the first single ever to sell 2 million digital copies in the US, it also was our Musicnotes "Song of the Year" in 2006, out-selling all other digital sheet music titles. Eight years later, Powter has yet to replicate the success of "Bad Day," but it remains a popular choice for digital sheet music-savvy musicians.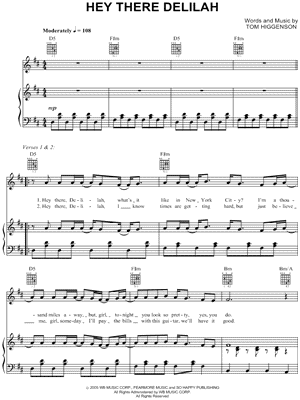 Boy falls for girl, boy writes song to woo girl, song shoots to the top of the charts and earns two Grammy nods. Following the previous one-hit sheet music wonder entry, the Plain White T's "Hey There Delilah" was our "Song of the Year" in 2007. It stands as the best-selling sheet music download by singularly (commercially) successful musician today.
Do you have a favorite one-hit wonder song to listen to and/or play? How amazing would it be to have even just a single song reach millions of people? Share your one-hit wonder-ful musings in the comments below!